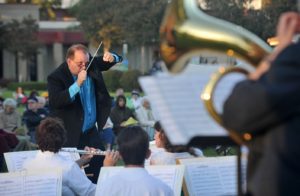 The 37th season of the band's summer concert series took place on July 7, 14, 21, and 28 at 7:00 PM in Camarillo's Constitution Park.  To read about it, see the Summer Series link.
Summer performances began with a concert on Thursday, June 30, at the historic Camarillo Ranch House, during one of its "Throwback Thursday" events.
The Camarillo Community Band will perform in the Memorial Day Service at the Conejo Mountain Memorial Park on May 29, 2023.  
Each concert features a variety of music including show tunes, Big Band arrangements, popular favorites, light classics, seasonal special arrangements, and solos with band accompaniment.  Each concert is directed by a guest conductor selected from the local community.
In past years the band has performed for the July 4th celebration at Adolfo Camarillo High School, the Christmas Train at the Depot in Camarillo, and the High School Commencement Ceremony at the California Conservation Corps in Camarillo. 
To listen to past concerts by the band, click on Performances.