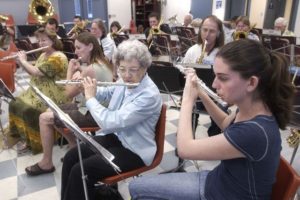 The Camarillo Community Band Christmas Concert is coming on December 4, 2022.  Corey Nordal will direct and Santa Claus will make an appearance. 
Members will have two rehearsals, each 2 1/2 hours in length.  The band could not schedule three rehearsals this year.
Please
click on the link
 to register your participation.  Knowing the instrumentation helps with the selections of music.
CONCERT
Sunday December 4, 2022 – 4:00 PM Camarillo Community Center
Call time 3:30.  Band members are asked to come early and help set up.
REHEARSALS
Monday November 28, 2022 –  6:30 PM to 9:00 PM – Room C3
Wednesday November 30, 2022 – 6:30 PM to 9:00 PM – Room C3
Both rehearsals at 700 Temple Ave, Camarillo Room C3
The Camarillo Community Band will perform in the Memorial Day Service at the Conejo Mountain Memorial Park on May 29, 2023.  
Members may click here to purchase a Camarillo Community Band shirt or sweatshirt.