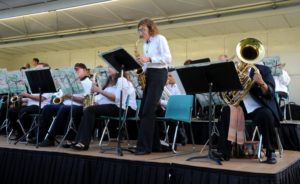 The Camarillo Community Band always welcomes new players. Any adult who plays a band instrument may join.  The only requirement is to attend the rehearsals prior to a concert.  For further information, see the band manager's letter to members.
High school students must audition to join the band and attend all rehearsals.  The audition for high school students consists of scales from 4 flats to 4 sharps, a one octave chromatic scale, a prepared piece, and sight-reading from the current Camarillo Community Band Folder. To schedule an audition, please contact Dan Rhymes: [email protected].
Summer concerts are directed by a guest conductor.  There are three rehearsals for each concert, one in June and two the week of the concert.  Musicians must attend the two rehearsals prior to the Thursday concert.  For the Christmas concert and the Memorial Day service, musicians must attend all scheduled rehearsals.  The dress code is "black and white": black pants and a white top.